Daedalus' situation was desperate: to keep the secret of the labyrinth, King Minos had trapped its creator, Daedalus, and his son Icarus in the maze with the man-eating Minotaur. In a fit of inspiration, Daedalus crafted two pairs of wings of feathers and wax. As they flew out over the Aegean Sea, Daedalus admonished Icarus not to fly too close to the Sun or else the wax holding the feathers would melt.
Famously full of flawed physics, this fabulous fable foreshadows the forbidding future for a planet newly discovered using data from NASA's TESS Mission. Dubbed a "warm Jupiter", TOI-3362 b swings around its host star every 18 days. Like Jupiter, it is a gas giant planet (with a mass five times greater than Jupiter's), but, unlike Jupiter, It sweeps past its host star every 18 days on a wildly elongated orbit that flash-heats the planet. And like Icarus, TOI-3362 b will one day plunge disastrously into the sea (although in this case, it's not the warm Aegean but a sea of molten plasma).
An Elliptical Argument
The thread of TOI-3362 b's fate leads not back to ancient Greece but to Renaissance Germany. In 1609, Johannes Kepler, an itinerant Swabian mathematician, published his analysis of astronomical observations collected by recently deceased Danish astronomy Tycho Brahe. The product of ten years of analysis (completed in the midst of life-threatening religious persecution), Kepler's Astronomia Nova explained the motions of the planets.
Kepler showed that planets orbit faster as they approach the Sun in their elliptical orbits, a result called Kepler's second law of planetary motion (his first law simply stated that planets orbit in ellipses). The physical explanation for this law (conservation of angular momentum) wasn't understood until about 80 years later, but the law itself was enough for Kepler to accurately predict the positions of the planets in the night sky, an achievement that had eluded astronomers for millennia.
This "speed-up close-in, slow-down far-out" behavior is key to understanding how astronomers determined the shape of TOI-3362 b's orbit.
Hotter than Hell and Half of Georgia
Like thousands of other exoplanets, TOI-3362 b was discovered using the transit technique. As the planet passes in front of its host star as seen from Earth, it casts a shadow the depth of which tells us how big the planet is (relative to its star) and the frequency of which tells us the planet's orbital period – TOI-3362 b casts its shadow every 18 days. The duration of the transit signal also tells us about the shape of the planet's orbit.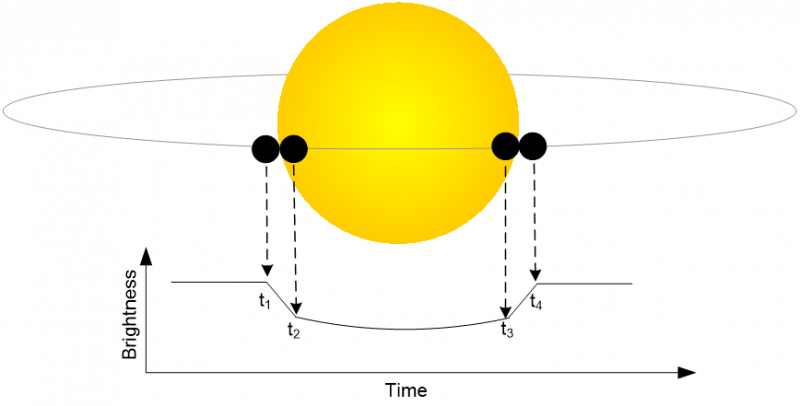 Kepler's second law tells us, for a planet in a circular orbit, exactly how long the transit should last. But if the planet has an eccentric orbit, the transit duration will be different. For example, if the transit takes place when the planet is near its closest approach, the transit will be shorter than for a planet in a circular orbit at the same distance. Thus, astronomers can compare their expectations for the transit duration for a circular orbit to what they actually see to estimate the shape of the orbit.
And, in the paper announcing TOI-3362 b's discovery, Jiayin Dong, a graduate student at Penn State and planet's discoverer, found a duration significantly from what's expected for a circular orbit. This result allowed Dong to conclude TOI-3362 b has one of the largest orbital eccentricities known. The wild swings in distance mean the planet also experiences wild swings in temperature. Going from the farthest to the closest point in its orbit, the planet's temperature skyrockets from a merely balmy 800 degrees K (1000 F) to a molecule-rending 2500 K (4000 F) over just a few weeks.
These changes in distance have implications for more than just TOI-3362 b's weather, though certainly some pretty wild weather is expected for planets on such eccentric orbits. They also seal the planet's fate.
Into the Breach
When a planet has an eccentric orbit close to its star, the planet experiences large and variable tidal distortions. This means that, when the planet is near the star, the star's gravity stretches the planet out into a football shape. But as the planet speeds away, it snaps back to its spheroidal shape.
This stretch-and-compress happens over and over again, each orbit, and can deposit large amounts of energy within the planet, heating its interior. This same effect powers the ubiquitous volcanoes on Jupiter's moon Io, the most volcanically active body in the Solar System.
This heat energy comes from TOI-3362 b's orbit, and, as a consequence, TOI-3362 b is ever-so-slowly spiraling toward its host star. Although the spiral-in rate is highly uncertain, Dong estimates that it might take about 2 billion years, a tragically short interlude on astronomical timescales. Dong points out that TOI-3362's host star may itself not be long for this world and may go super-nova in another 500 million years, consuming the planet in celestial fires.
And so, like Icarus, TOI-3362 b will meet a tragic but inevitable fate. Exactly what it looks like when a planet falls into a star, astronomers are still trying to understand, but the x-ray and ultraviolet outbursts likely to accompany the planet's final plunge should rival the nymphs' lament for poor Icarus.