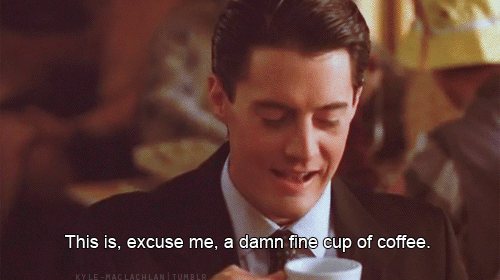 I watched a lot of TV when I was growing up, and some shows made a strong impression on me. "Twin Peaks" stands out among them – I can still hum the theme song, and I can see the eerie photo of Laura Palmer that lingered behind the ending credits. The show had a unique blend of off-kilter comedy and claustrophobic unease that still colors my taste in TV.
I was excited to read that, true to Laura's promise in the Black Lodge, David Lynch and Mark Frost are continuing the series later this year. While I wait for the new series, I read Frost's recently published book The Secret History of Twin Peaks. It was just as spooky as the original series.
History fleshes out some of the underlying mythos of "Twin Peaks", answering a few questions from the show (Who was BOB? Why did owls feature so often in the show?) but raising a lot of others. Presumably, the book is meant as an entrée into the coming series, to stir up interest in new story lines, which the book seems to hint at.
History takes the form of a dossier, written and hand-bound by a mysterious author, about the history of the Twin Peaks area, going back to shortly after the American revolution and seemingly running up to the end of the show.
It opens with a letter from a familiar FBI agent, instructing another agent to evaluate the dossier's contents and determine its author. Throughout the dossier, the investigating agent inserts marginalia, confirming or questioning remarks and assertions by the author, all of which gives the writing a crisp, matter-of-fact tone that contrasts with the mystical and murky events in the story.
This is actually the first non-science book I've read in a while, and the story was so engaging, I gulped it down in a weekend. So, highly recommended reading for fans of the show or lovers of supernatural thrillers. Along with your reading, be sure to give yourself the present of a cup of hot, black coffee.